(Last Updated On: June 2, 2020)
Looking for an honest Diet to Go review? Well, when it comes to losing weight, meal delivery diets are one of the most convenient and effective options out there. With so many options to pick from, though, how can you possibly know which one to go with?
Good news – Diet to Go takes all of the guess work out, with their amazing chef-inspired meals, and a plan that produces super fast weight loss results!
In this Diet to Go review, we'll explain exactly what makes this such an effective diet for weight loss, tell you how much their plans cost, and give you all of the information you need to decide whether or not this is the right meal delivery diet for you.
Before we dive into the full review, though, here's a quick look at why this is one of our top-rated diets:
The Food Tastes Great! Some of the Best Meal Delivery Diet Food We've Had
Healthy & Effective Weight Loss: Lose weight with a plan that has been proven to be healthy, and very effective.
Variety: Have special health needs? Diet to Go has some of the best menu variety we've found! They even have a keto plan!
Prices You Can Afford
Learn more and check current prices at Diet to Go's website
What is Diet to Go?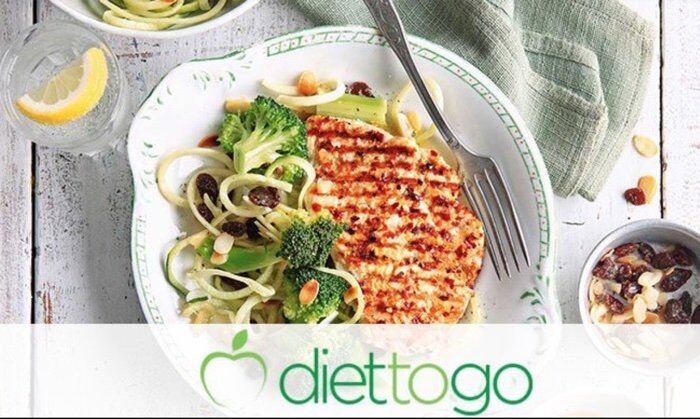 Diet-to-Go joins the ranks of Nutrisystem and the South Beach Diet as premiere meal delivery options in the weight loss space. When you sign on, they will ship you a variety of meals – between 2 and 3 per day – that when used correctly, should help you lose weight.
The thing that sets Diet-to-Go apart from the others, however, is the fact they send you "chef-crafted" meals that are designed by dietitians – this is real food, that actually tastes great.
Of course, you can pay additional fees to upgrade your food options with these plans, but with Diet-to-Go all of their meals fall into the "upper-tier" category of meal delivery diet food – meaning they taste great and are in the top-tier in terms of quality.
DiettoGo utilizes a balanced approach to meal planning, so all of their meals are portion-controlled, aren't packed full of sodium. They are also specifically designed to help you lose the most amount of weight, in the healthiest way possible.
How Much Weight Can You Lose?
Right now, Diet-to-Go is offering to help customers lose up to 10 pounds during their first month on the program. Most people who follow their program correctly can expect to lose about 1 to 3 pounds per week.
Keep in mind, though, that weight loss results are going to vary for everyone, and it is also based on your height and weight.
Real Customer Testimonials
There are plenty of great Diet to Go testimonials posted online, so be sure to check them all out if you're curious about what real customers are saying.
Here are just a few Diet to Go reviews that I found to be very inspiring:
Diet-to-Go was a great program. I'm really glad I did it," he said. "I have a lot of friends who tried doing it on their own, but the learning curve is just so much harder that way. This gave me that huge boost to figure it out. -Greg (Lost 53 LBS)
How is it a 'diet' when it tastes so darn good?! There must be some *magic* hiding inside… Bagels for breakfast? BBQ­ chicken burgers for lunch? How can it be?! And don't get me started on the spaghetti n' meatballs and mac n' cheese! -Alex (Lost 28 LBS)
I signed up right away for the breakfast-lunch-dinner, 7-day meal plan, and that's when the weight just came right off…I could count on the fact that I was losing 2-4 pounds a week*. I was super happy. -Elizabeth (Lost 60 LBS)
Ready for your own Diet to Go success story?
Learn More and check current Diet to Go prices
Diet-to-Go Meal Plans
They offer several different plans to choose, including options for diabetics, vegetarians, and even plans that don't include seafood.
Below we'll detail exactly what these plans are, what they include, and how much they cost.
Here are the Four Main Diet to Go Plans to Choose From:
Balance
Balance-D (Diabetic-Friendly Menu)
Keto-Carb30
Vegetarian
1. Balance
Price: Starting at $117.59/week for Women & $125.59/week for Men

The DTG Balance plan is their top-rated menu and has been helping people lose weight for almost three decades. Under this plan, you can choose to have enough meals for 5 days of the week, or for the full 7 days.
From there you will decide if you want to eat 2 meals per day, or 3. Of course, the price will change depending on which options you choose.
The Balance Menu features delicious "restaurant-quality" cuisine that is properly portioned and approved by dietitians. Each meal is rated as heart-healthy, is low in sodium, cholesterol, fat, and sodium, and can be adjusted based on your unique dietary needs (i.e. vegetarian and diabetic options).
Their plans are also specifically designed for men and women – men will eat 1600 calories per day, while the Women's Meal Plan features 1200 calories of food per day.
Sample Menu:
Breakfast: Omelet Pomodoro
Lunch: Blackened Salmon
Dinner: Mexican-Style Turkey Burrito
2. Balance-Diabetes
Price: Starting at $117.59/week for Women & $125.59/week for Men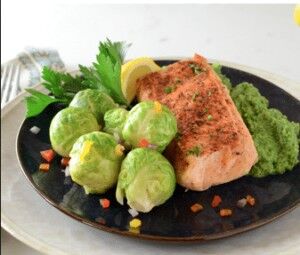 Designed based on guidelines from the American Diabetes Association, this plan features the proper amount of carbohydrates and fat for diabetics. When followed correctly, this you will lose weight, and it should help prevent type-2 diabetes for people who are trying to manage pre-diabetic symptoms.
All of the Balance-D meals are designed to help naturally control your blood sugar, are sodium, carb, fat, and cholesterol controlled, making them heart-healthy as well.
This plan can help people lose 5-10 pounds or more, even those who don't have diabetes.
Just like the traditional Balance Plan, this plan provides 1200 calories per day for women and 1600 per day for men.
Sample Menu:
Breakfast: Pesto Egg and Cheese Pizza
Lunch: Chicken Burger
Dinner: Baked Salmon and Pineapple Salsa
3. Keto-Carb30
Price: Starting at $133.99/week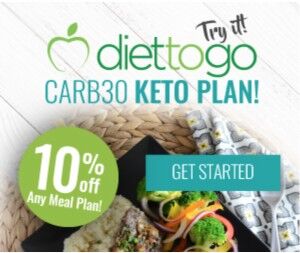 Designed for people who want to follow an Atkins-inspired meal plan, the Carb30 is the perfect choice for low-carb lovers.
Replacing carbs with fat, this plan features meals rich in meat, cheese, and eggs. When followed correctly, these meals will make you drop pounds fast and efficiently.
A day's worth of meals typically only includes 30 net carbs, and adding additional bread, sugars, fruit or carbs is not suggested by the experts when following the Carb30 plan.
Sample Menu:
Breakfast: Western Omelet
Lunch: Chicken Parmesan over Ratatouille
Dinner: Chicken Marsala
4. Vegetarian
Price: Starting at $117.59/week for Women and $125.59/week for Men
The Vegetarian Diet-to-Go plan brings all of the amazing benefits of their top-rated Balance Menu, minus the meat. These meals are also controlled for cholesterol, sodium, carbs, and fat. They're considered heart-healthy and include protein like beans, dairy, eggs, and a little bit of soy.
Sample Menu:
Breakfast: Veggie Cream Cheese Bagel
Lunch: Greek Pasta Salad
Dinner: Stuffed Shells with Tomato Sauce
Support to Help You Reach Your Goals
When you sign up for the Diet to Go weight loss plan, you will get immediate access to their team of health professionals – they include a nutritionist, registered dietitian, and Certified Health Coach to name a few.
They'll be there to offer support and guidance so you can stay on track and reach your weight loss goals safely and effectively.
Diet to Go Cost: How Much per Month?
Diet to Go ranges in price from $121.99 to $$174.99 per week depending on how many days per week you want food, and whether you're a man or woman. Men's plans cost a bit more, as they'll be eating more calories at every meal.
Final Thoughts: Where to Buy
As you can see there are plenty of great options on the Diet-to-Go weight loss system and unlike other meal delivery plans, Diet to Go features restaurant-quality meals, that taste great and produce amazing results.
If you're looking for the simplicity of meal delivery, but don't like the idea of eating Lean Cuisine-style microwavable meals, then the chef-inspired food provided by Diet-to-Go might be the perfect fit.
Where to Buy
Think Diet to Go sounds like a good fit? The best place to buy Diet to Go is at their official website…
Learn more and check today's best Diet to Go prices at their website
---
Sources