(Last Updated On: May 31, 2020)
Looking for a guide to Phases 2 and 3 of the South Beach Diet?
Well, by now there's a pretty good chance that you've heard about the South Beach Diet – that's because it's one of the most popular and successful weight loss programs on the planet.
If you're brand new to the diet, then you may not know that it operates in three different phases:
Phase 2: Steady Weight Loss
Phase 3: You've Got This!
Each phase brings a new set of goals in terms of nutrition and exercise, and when put to work correctly, they should be setting you up for long-term weight loss success.
Phase 2: Steady Weight Loss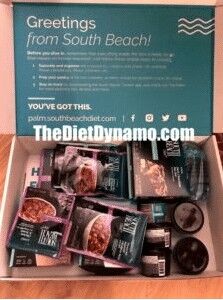 If you've reached Phase 2, then you have completed Phase 1 – congratulations! You just finished the hardest and strictest part of the diet, and things should only get easier from here.
After a full 14 days of limiting your sugar and starch intake, you should be feeling leaner, more energetic, and satisfied with your six small meals per day.
I'm guessing you're lighter too? Let's hope because that's the ultimate goal!
Have you also noticed that you feel different? By different, you should be feeling better. By eating a diet that is low in carbs, and rich in lean protein, healthy fats, and vegetables, your internal chemistry has actually undergone a change.
You've broken that carb and sugar cycle – those old cravings that caused you to pack on extra fat should be gone, and from here on out you should continue dropping pounds and a steady pace.
You will stick with Phase 2 of the diet until you've reached your weight loss goals, so buckle up and enjoy the ride!
How Much Weight Will You Lose During Phase 2?
During the second phase of the South Beach Diet you can expect to lose about 1 to 2 pounds per week. This has been found to be a safe amount of weight to lose every week, and is a nice, realistic number to shoot for.
How Phase 2 Works
Just like Phase 1, you're going to be eating three pre-made South Beach meals each day for 5 days of the week- that includes breakfast, lunch, and dinner. Y
ou'll take charge of your snack and side dish options, which means there will be some grocery shopping involved.
Don't worry, though – you can keep costs down if you shop smartly, and follow the plan they send.
During Phase 2 you're allowed three snacks per day – that's in addition to the meals they send.
These will include lean proteins, healthy fats, fruit, good carbs, and vegetables.
Be sure to follow their plan closely for the exact quantities of each, and a full menu for all of the food and snack categories.
Practice Days + Flex Meals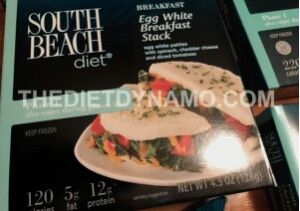 Notice that we said "5 days of the week" above, when referencing how many of the South Beach meals you'll be eating.
That's because two days each week you'll be on your own.
These are "practice days," where you'll be in charge of preparing your own meals for breakfast, lunch, and dinner. You'll also be making your own snacks.
This is a great opportunity to take charge of your diet and to make healthy food choices on your own.
Of course, South Beach Diet will be guiding you during this process, but the ultimate goal here is to teach how to eat healthy on your own – this is your best shot at long-term weight loss success.
How Much Water Do You Have to Drink During Phase 2?
A lot of the components of Phase 1 are going to carry over to part 2, and that is true for how much water you'll be drinking.
South Beach Diet recommends drinking at least 64 ounces of water per day, and to avoid drinks with sugar.
In addition to water, you can also enjoy things like black coffee, unsweetened tea, and fizzy water.
How Much Exercise is Required?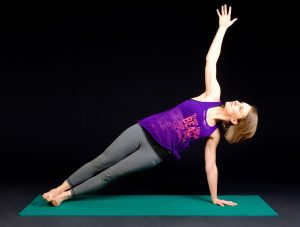 Did we mention that similarities between phases? I thought so…that said, you're going to be stepping your workout game up a bit as you enter
Phase 2, if you're ready for it. They include a workout guide when you sign up for the program, and Phase 2 is a good time to start their body weight routine if you're up for the challenge.
The elite members of the group can even progress to the workouts in Phase 3, if they're truly intense.
South Beach Diet Phase 3
If you've reached Phase 3, you've hit your weight loss goals – congratulations!
In Phase 3, which really should be the rest of your life if you're committed to the changes that you have made – you will be able to enjoy all foods, but remember moderation is going to be key!
By now, the healthy habits you have developed should now be routine. You'll be enjoying your new active lifestyle, and crave healthy foods for every meal.
Moving forward you will want to keep eating six small meals throughout the day so you don't end up with those hunger pains that can lead to overeating.
Even though you can now eat all foods in moderation, the majority of your meals should come from the South Beach Diet "Foods to Enjoy" lists – these still include things like high-quality carbs, lean protein, and healthy fats and vegetables.
Exercise should also remain an important part of your routine, with at least 30-minutes of activity every day.
Summary
By the time you reach Phase 2 of the South Beach Diet, you should be feeling great, have more energy, and lost a fair amount of weight. Phase 1 is the most restrictive phase of the diet, so when you get to the second round things should seem normal, and be getting easier and easier.
As you hit Phase 3, this new way of life is just part of your routine and you'll be ready to continue on with your healthy lifestyle.
If you sign up for the South Beach Diet, they can send you most of the meals you need for every Phase right to your door, along with a complete guide for powering your way through the program.
Think South Beach Diet sounds like a good fit?
Learn more with our detailed review of South Beach Diet plus pricing details.
---
Resources
More Phase 2 Info
Phase 2 & 3 PDF