(Last Updated On: June 2, 2020)
The 3 Weeks to Shredded diet and fitness program from world-famous MMA trainer, Mike Dolce, is one of the fastest and most effective ways we have found for losing weight and cutting fat in just 21 days!
The 3 Weeks to Shredded program is designed around a couple of pretty simple, but proven principles:
Eat Healthy, Real Food
Smart Workouts
When you combine these two things, you can sculpt a strong, lean, and healthy body in less than a month, and be on your way to getting into the best shape of your life!
The 3 Weeks to Shredded Program from The Dolce Diet
When you go to sign up for the Dolce 3 Weeks to Shredded Program, you will have the option to choose between two different options:
3 Weeks to Shredded 4 Week Program
Cost: Check Current Price
This is the month-long version of the program, and is a great way to help you do all of the following:
Jump Start Your Weight Loss
Menu & Workout Programs that Are Easy to Follow
Have a High School Reunion, Wedding or Another Event to Prep For? This is Perfect for That!
Lose Up to 21 LBS in Just 3 Weeks!
3 Weeks to Shredded + Living Lean 12 Week Program
Cost: Check Current Price
Want to keep things going beyond your first 3 weeks to better health? Then, the 12 Week Program is the perfect fit! Here's what you get when you sign up for this option:
A Full 3-Month Program
Includes The Famous 3 Weeks to Shredded Program to Get You Started!
Learn How to Make Healthy Lifestyle Changes for Life!
Improved Energy and Stamina Levels
Want to Make Big Changes to Your Body? This is the Program!
How Does 3 Weeks to Shredded Work?
The 3 Weeks to Shredded Program is designed to blast away fat quickly and effectively! If you're looking for one of the fastest ways to transform your body, then this is it – but, you will have to work for it!
When you pick your plan and sign up, you'll get instant access to their Dolce Diet portal, where you can find your daily customized meal plan, workout videos, and get coaching tips and motivation from the man himself, super trainer Mike Dolce.
Custom Menu Plan
They'll show you the exact foods to eat, and when to eat them, for getting shredded. When you're following the 3 Weeks to Shredded Plan you'll eat:
Eat Small Meals Every 2-4 Hours to Keep Your Metabolism Revved Up
Eat Earth-Grown Foods That Are Designed to Maximize Fat Loss While Also Helping You Build Muscle
Never Worry About Grocery Shopping or Meal Planning: They Have Ready-to-Go Grocery Lists and Recipes
The Workouts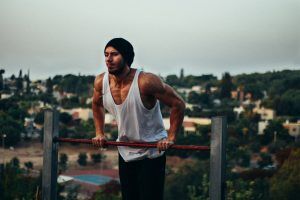 Every day brings new workouts, and from your Dolce Diet account, you can see exactly how long the workouts are going to take, and how many calories you should burn.
The workout videos show you the exact form you should be using, to prevent injuries and ensure max muscle gain. You will be able to challenge yourself with some seriously intense workouts, with Mike Dolce working out alongside you.
These are many of the same training and workouts that Mike uses with some of the best MMA fighters in the world!
Track Your Progress & Stay Motivated
Mike is there to provide coaching support, plus you'll get advice and tips to help keep you on track to hit your goals and stay motivated.
With their built-in online tools, the folks at The Dolce Diet are there to help you track your progress, with a balanced and effective approach to health and fitness.
What You Can Expect Each Week on 3 Weeks to Shredded
Week 1: Noticeable Weight Loss. During this first week, you should see noticeable weight loss. They want you to be able to get max weight loss results, so they have designed an eating and workout program to help you accomplish that.
Week 2: More Energy. As your body adjusts to this new way of eating and working out, you should see improved energy levels. They make this happen by keeping your body fueled with the right energy sources, so you can hit peak athletic performance levels!
Week 3: Lean & Mean. If you've been eating right and hitting your workouts on schedule, then you should be enjoying a smaller waistline, and improved lean muscle mass. Like this "new you?" Keep it going!
Final Thoughts: Where to Buy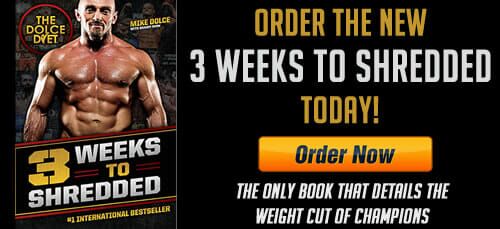 Are you looking one of the fastest and most effective ways to lose weight, cut fat, and build lean muscle? Then the 3 Weeks to Shredded program from The Dolce Diet is the perfect program for you!
From world-famous MMA Trainer, Mike Dolce, the 3 Weeks to Shredded plan is designed to help you lose up to 21 pounds in 21 days, and it's a great way to learn the workouts and eating habits that can help you get lean and shredded for life.
Where to Buy 3 Weeks to Shredded:
Think Dolce's program sounds like the perfect fit? The best place to buy is directly from their website…more details below: