(Last Updated On: June 2, 2020)
Jenny Craig vs. Nutrisystem – which diet cheaper and better? Well, chances are, if you're American, you've heard about Jenny Craig or Nutrisystem at some point during the past few years. Both diet programs have become hugely popular over the past couple of decades, and as a result, each has developed a loyal following of diet and health enthusiasts.
While most people have heard of both of these diet plans, you may be wondering which one will work better for you, especially if you're in the market for a proven way to lose weight.
I am happy to report, that both Jenny Craig and Nutrisystem work extremely well when used correctly, but there are some differences between the plans that may make one option better for you when compared to the other.
With that in mind, let's take a closer look at both diet plans, so you can decide which one will be best when it comes to helping you reach your weight loss goals.
Price of Jenny Craig vs. Nutrisystem
When comparing the two diets by price, you'll see that Jenny Craig costs more than Nutrisystem. When you factor in the additional cost of food, expect to pay $20 per day for Jenny Craig. Nutrisystem, on the other hand, starts at around $8.75 per day. On top of that, Jenny Craig has a $99 enrollment fee, and there aren't any additional charges to join Nutrisystem.
Nutrisystem is the much cheaper alternative
1. Nutrisystem
PRICE: Check Current Nutrisystem Prices
Nutrisystem is a Diet Dynamo favorite (see my Nutrisystem results here) and is a plan that I have had a lot of success with over the years. It is one of the most well-respected meal delivery systems on the market today and has a variety of plans to choose from.
It isn't quite as personalized as Jenny Craig when it comes to their support system, but you do get access to their team of counselors, so if you have a question or hit a plateau, you have someone to talk to.
When you sign up with Nutrisystem you will have the option to choose between three different plans:
The Plans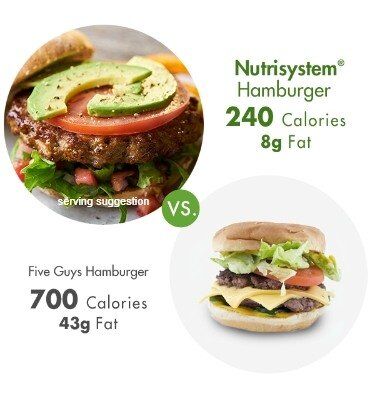 Basic
Uniquely Yours
Uniquely Your Ultimate
Speciality Plans: Nutrisystem D and Vegetarian
The basic starts at just under $10 per day for a 28-day supply of food, which includes most of your meals, snacks and shakes for an entire day. Of course, there will be some fresh fruit and produce involved, so you will be doing a small amount of grocery shopping as well.
With each plan, you have the option to customize it to your unique needs.
For example, they have different offerings for people with diabetes, vegetarians, men, women, and you can even decide if you want to pick your own menu or have Nutrisystem pick the food for you.
The price for the plan will change accordingly, but just know that you have a number of different options when it comes to creating a customized plan that will meet your needs.
Nutrisystem is going to be a great option for anyone who likes the idea of having healthy diet food delivered right to your door, and that will help you lose weight as long as you follow the plan.
There are plenty of people who have lost 10, 20, 30 pounds, and even more using the Nutrisystem diet plan.
Big Differences Between Jenny Craig & Nutrisystem
Nutrisystem and Jenny Craig have a lot similarities:
They're Both Meal Delivery Diets
Their Plans are Easy to Follow
Can Help You Lose Weight in a Way that's Safe and Healthy
That said, there are some big differences between them, which may make one better for you when compared to the other.
Here are some differences to consider, if you're trying to decide between joining Nutrisystem or Jenny Craig:
Coaching: Both Have Coaching, But Jenny Craig's is More Personalized
Specialty Plans: If you have dietary issues, Nutrisystem has a wider selection of specialty plans
Price: Nutrisystem is a lot more affordable, so if price is an issue, that's something to consider.
Who Should Pick Nutrisystem?
Nutrisystem is the best-selling meal delivery diet on the planet, and it's been proven to help people lose weight fast. On top of that, it's also the most affordable service we have tried.
While they don't offer a dedicated personal consultant, like Jenny Craig does, you do get access to their diet and weight loss experts, who are there to answer your questions, give you tips and feedback, and support you on your journey to better health.
If you're looking for a budget-friendly meal delivery diet service, that offers many of the same perks and benefits of much more expensive programs, like Jenny Craig, then Nutrisytem is the perfect choice for you!
If you're ready to finally reach your weight loss goals, right now is a great time to join Nutrisystem:
2. Jenny Craig
PRICE: Check Latest Prices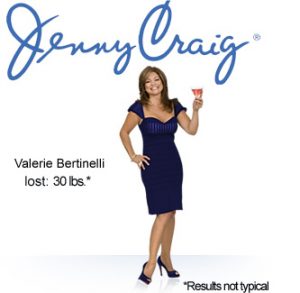 Much like Nutrisystem, Jenny Craig also has the option of delivering meals right to your door (read our full review here).
With just over 100 food items to choose from, their menu isn't quite as extensive as Nutrisystem, but they still have a decent amount of food to choose from.
Their biggest selling point, however, is the level of support that can provide you during your weight loss journey.
Jenny Craig offers a dedicated personal consultant, who is there to support, guide, and encourage you along the way.
You're guaranteed a consult at least one per week, and they can help you customize a weight loss plan that meets your individual needs.
The Jenny Craig Weight Loss Centers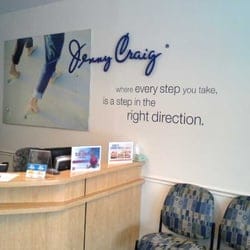 Unlike Nutrisystem, Jenny Craig has a number of centers in cities and towns throughout the United States, so you can actually meet with your weight loss consultant in person.
They have more than 2,000 trained professionals working for them throughout the country, so there's a good chance that there is a center in your town, or near where you live. If not, don't worry, though.
You can also meet with your consultant via phone, Skype, or video chat, so no matter where you live you will have access to your support person.
At last check, Jenny Craig started at around $19.00 month, but that didn't include the cost of your food. The foods plans are ordered separately, and you can expect to pay about $3.69 per food item, on average.
They also offer a "premium" level plan that starts at $39 per month, plus the cost of your food.
With each of their plans, you get a customized menu for the week, so you know exactly what foods to buy, and what to eat, which makes things pretty clear and easy to follow.
Who Should try Jenny Craig?
Jenny Craig is the perfect choice for you, if:
You Have the Budget for it
You Want to Premium Level Diet Food
You Want the One-on-One Support from a Jenny Craig Consultant
You Want to Reach Your Weight Loss Goals in a Way That's Safe and Healthy
Ready to start your Jenny Craig Journey?
Check Latest Jenny Craig Discounts
Nutrisystem or Jenny Craig: Our Top Pick?
Both Jenny Craig and Nutrisystem offer proven and simple plans for losing weight, so you really can't go wrong with either of them.
I have personally had great success using the Nutrisystem plan, so they are typically the first meal delivery diet that I recommend.
Their plan is straight-forward and easy to follow, their food tastes pretty good, and they are also very affordable.
I don't think you can go wrong with Jenny Craig, though, either, so take a hard look at both plans and see which one will work best for you.
In the meantime, Nutrisystem is currently offering some pretty solid discounts, including a BOGO sale and free FedEx shipping when you sign up for their auto-delivery program.
Get details below:
Resources