(Last Updated On: December 6, 2021)
Eating the right way is a challenge even when you are focused on making a change.
This is what holds people back when they are trying to figure out what works and what doesn't. Two weight loss programs that continue to stand out would be Noom and OPTAVIA.
This comparison is going to look at what each weight loss program brings to the table and how it can impact your life in the coming years.
Features Head-to-Head: What Noom and OPTAVIA Have to Offer
Noom's Key Features
1. One-On-One Coaching
It is the coaching that draws people in when it comes to this weight loss program.
Noom starts with a tailored set of questions that will break down what you are all about as a person. This can help put together a complete picture of how to make sure you are eating properly and not making mistakes along the way.
Once you get started on one of the company's plans, you will begin to receive one-on-one coaching. This will include how you are going to eat and what needs to happen for you to shed fat.
It is not easy to do this on your own and that type of coaching will add value to the process immediately. You will notice it as soon as you begin.
2. Noom App
It is the app that is the heart of what makes this program unique.
You can easily download the app and start using it as a member with Noom. The app is great because it has a huge food database and makes it easier than ever before to track your meals.
You are also going to get the chance to go through personalized lessons involving psychology and other aspects of eating correctly.
The benefits include:
Easy Tracking
Personalized Lessons
This is the type of information that is going to change your life for the better.
If the goal is to ensure you are eating safely then you will want to begin here. The Noom app is futuristic and a lot of fun to use for the average user wanting to lose weight.
3. Comprehensive Food List
The food list is a good starting point as you get to go through all of the foods to figure out what works well for your situation.
Some people are going to want to include specific foods that are in line with their taste buds.
Since the food database is extensive, you are not going to feel pigeon-holed into a specific set of meals. Instead, there are several options to go through and you can find one that works properly for each meal during the day.
This is the real beauty of what Noom brings to the table and why it works so well.
4. Psychological Assessment
A foundational element associated with Noom has to do with the built-in psychological assessment.
The premise behind the assessment is to better learn what you are all about as a person. This can often connect directly to how and what you eat during the day.
The benefits include:
Breakdown of Your Psychological Connection To Food
In-Depth Personalization of Eating Habits
There is nothing better than having this information to learn more about yourself.
A lot of people don't know about these things when they eat and that is what holds them back. You won't have to worry about that here with Noom.
5. Easy Customization
Noom focuses on the heart of the issue, which has to do with your mind.
You will want as much information as possible to customize the process. This includes what you are eating and when you are eating during the day.
The bottom line with Noom is to go through a list of foods and choose the ones that will work for you. This is going to vary for each person and that is what makes Noom easy to tailor.\
OPTAVIA's Key Features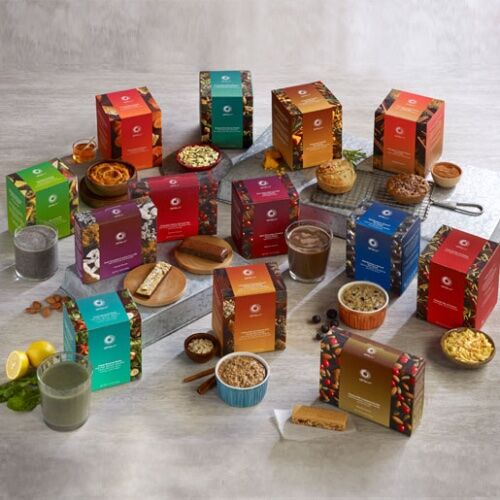 1. In-Depth Coaching
It is the detailed coaching that is a good starting point with OPTAVIA.
You are going to learn a lot about yourself by seeing how the kits can be adjusted to your needs. What works for one person might not work for others.
This is why the "Fuelings" are set up for those who want to ensure they see value in everything they eat. Quick, effective meals are ideal for the average person.
2. Specialized Fuelings
It is the Fuelings that set OPTAVIA apart from other weight loss programs.
These Fuelings are built around the idea of rapid meals that can be consumed during the day. You will not have huge gaps between meals as each one will only be 100 calories or so.
The benefits include:
Nutrient-Dense Options
Ready To Go Meals
This is good for those who feel hungry all the time and hate that feeling.
You can keep eating with these Fuelings and that is what OPTAVIA's weight loss program emphasizes.
3. Complete Kits
The kit that is going to be delivered to your front door is going to have everything you need to eat well.
YOU MAY ALSO LIKE: How Much Does OPTAVIA Cost?
This is empowering and simple for those who want to keep things as straightforward as possible. The kit will be delivered to you and then you can follow it for weeks to come.
4. Personalized Options
Everyone has specific needs when it comes to what they eat.
This level of customization is possible through OPTAVIA as the company emphasizes personalization. This is done through the Fuelings you eat and how the kits are set up.
The benefits include:
All-In-One Solutions
Long List of Fuelings
Choose the kit that works well for you and that is what you are guaranteed to get with OPTAVIA.
It simply works well and you are going to enjoy how each element of the kit is fine-tuned for eating well.
5. Seamless Meal Delivery Program
The meal delivery program is something OPTAVIA has focused on since day one.
Unlike other companies, they do not waste time with supplementary meal delivery services that are not as quick or in-house. Instead, they have a comprehensive option that is working through their company to make sure the meals get to you as soon as you want them.
This is efficient and ensures you get the kit promptly rather than having to wait.
Noom's Coaching vs OPTAVIA's
1. Noom
Noom has spent a lot of time on its coaching and takes the time to offer personalized sessions with a trusted coach.
This is empowering as you get to learn more about your overall health and what needs to happen for you to eat properly. If you don't take the time to d this, you will not know how to further adjust your meals as you hit plateaus during the journey.
YOU MAY ALSO LIKE: See What's on Noom's Food List
This happens to everyone and it is something you are going to be prepped for by the coaches. This is powerful information that is a big part of what allows Noom to flourish as a weight-loss option.
2. OPTAVIA
OPTAVIA has built a coaching setup that is unique as it takes the opportunity to work with you around the choices you have made.
The brand takes the time to look at the nitty-gritty details of how the kit will work for you. Since they are giving it all to you on day one, you can take this information to make the most of what you are eating. A lot of people don't do this and that is what holds them back.
With the personalized coaching that you are going to receive through OPTAVIA, you will not make silly mistakes that might have been possible on your own.
OPTAVIA's Meal Delivery vs Noom's Food List
1. Noom's Approach to Eating
Your approach to eating is something Noom focuses on with its app and overall lessons. Everything is tailored to better understand how you think about food and what is needed to optimize your diet.
There are specific approaches that need to be incorporated into your approach while eating. This can make it a calmer process for those who want to eat the right way from day one.
Noom looks at providing personalized lessons and one-on-one coaching that helps you make the right choices. This is key information that will guide you towards a better future.
2. OPTAVIA's Meal Delivery Options
OPTAVIA offers all-encompassing kits that are ideal for those who want a simpler solution. Instead of having to worry about your meals, everything is going to be delivered to you within a reasonable time frame.
This is essential when it comes to busy people that are always on the go.
The plan is going to be available to you immediately and you will get a kit that has everything. This is a great way to eat properly and make sure you are not cutting corners along the way.
Price Comparison
1. Noom Pricing
1-Month Recurring Plan – $60
2-Month Recurring Plan – @99
3-Month Recurring Plan – $129
4-Month Recurring Plan – $139
5-Month Recurring Plan – $149
6-Month Recurring Plan – $159
7-Month Recurring Plan – $169
8-Month Recurring Plan – $179
12-MONTH Recurring Plan – $199
2. OPTAVIA Pricing
5 & 1 Plan – $414.60 (119 servings Per Kit)
4 & 2 & 1 Plan – $457.95 (140 servings Per Kit)
3 & 3 Plan – $19.95 (7 servings Per Kit)
You Should Pick Noom If You Want…
Lots of Plans to Choose From
Integrated App
Personalized Lessons
Fun Tracking Tools
Psychological Assessment for Dietary Purposes
You Should Pick OPTAVIA If You Want…
Comprehensive Plans
Premium Meal Delivery Service
Low-Calorie Dieting
All-Inclusive Coaching Program
Small Meals for Easy Eating