(Last Updated On: December 29, 2021)
Looking for Nutrisystem for Men reviews? We've got you covered…
With so many weight loss diets on the market today, it can be hard to know which ones actually work, and which ones are just another fad. It can be even harder to know which ones work best for guys.
Wouldn't it be great if there were a weight loss diet plan that had been proven to work, and wouldn't it be even better if this same diet had a plan that was specifically designed for the unique needs of men?
Meet Nutrisystem for Men.
Nutrisystem's latest program for guys is their best weight loss diet plan ever, and the best part it is designed to help guys reach their goals in some of the fastest and healthiest ways possible.
What I Liked About Nutrisystem for Men Diet Plan
Eat 6 Small Meals per Day
Enjoy Fresh Fruits, Veggies, & Other Healthy Food & Meals
Learn Healthy Eating Habits by Making Your Own Flex Meals Each Week
Perfect mix of food and nutrients guys need to help fuel their bodies
Meals that are high in protein
High fiber meals and food that keep you feeling fuller longer
Lose Up to 18 LBS in Month 1
A Price Most can afford
The best part is, almost all of the food and meals you'll need for the month are shipped right to your door, and right now you can start their plan for less than $300 per month.
Ready to Put the Power of the Nutrisystem for Men plan to work for you?
Current Nutrisystem Meal Plans & Prices for Men
When you go to sign up with Nutrisystem, there are several options to choose from for meal delivery.
Each offers different pricing points (see a full list of Nutrisystem prices here), menu options, and food variety.
1. Basic for Men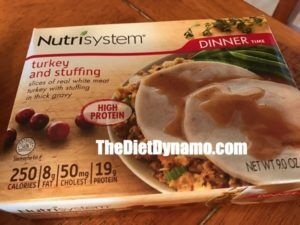 This is their most affordable plan and is a good way to get started if you're on a limited budget. On the Core Plan, Nutrisystem will send you a full selection of ready-to-go meals which includes the most popular foods on their menu.
2. Uniquely Yours
This one of the best Nutrisystem plans, and is a great option if you can afford it.
Uniquely Yours gives you access to more than 150 menu and items and meals, plus you can select from their frozen foods menu, which features some of their best meals and desserts.
3. Uniquely Yours Ulitmate+
Nutrisystem recently announced their all-new Uniquely Yours Ultimate plan for men, and this is their biggest and best menu available.
Includes access to everything in the original Uniquely Yours plan, plus free Nutrisystem Shakes.
4. Specialty Plans: Nutrisystem D & Vegetarian
Nutrisytem also offers plans, meals, and menu options for men who are vegetarian or those who are pre-diabetic or have Type 2 diabetes.
Ready to get started?
Sample Menu: What Food Do Guys Eat?
The menu offers plenty of variety, and I never really found a food that I didn't like while on the program.
Here are just a few of the meals you'll get to eat:
Breakfast
Granola Cereal
Harvest Nut Bar
Cinnamon Streusel Muffin
Homestyle Pancakes (Frozen)
Turkey Sausage & Egg Muffin (Frozen)
Lunch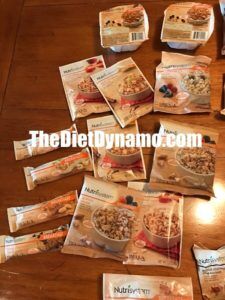 White Bean Chicken Chili
Sweet BBQ Sauce with Pulled-Style Pork
Trail Mix Bar
Hamburger (Frozen)
Southwest Fiesta Melt (Frozen)
Dinner
Broccoli & Cheese Stuffed Chicken Breast (Frozen)
Black Bean Polenta Enchilada (Frozen)
Lasagna
Mushroom Stuffed Chicken Breast (Frozen)
Meatballs in Marinara
The full menu is much more extensive than what I listed below, but I just wanted to give you an idea of some of the foods that you can choose from.
Visit Nutrisystem's website to see the complete menu for men.
What's Inside Your First Order? Check Out My Video Review:
How Do Their Personal Plans for Men Work?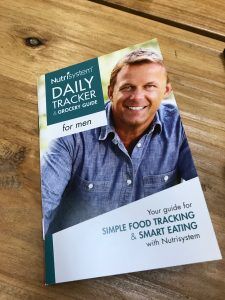 Nutrisystem recently launched their all-new Personal Plans program, which is designed to help maximize your results during your first week on the program.
You can learn more with our review of Nutrisystem here. It's a great way to gain confidence when first starting the program.
Everything you need for success will come in the FreshStart Box, which is filled with all of the meals, snacks, and Turbo Shakes that you need to make the most of your first week on the program.
With the Personal Plans System, guys can lose up to 18 pounds and 8 inches during their first month on Nutrisystem.
Get Your Food, Follow the Program
After you've picked one of the plans listed above, you will receive a full month's worth of food right to your doorstep.
I loved the convenience that Nutrisystem provided while on the diet – it really doesn't get much easier – as long as you follow their plan, you're pretty much guaranteed to lose weight.
While you're on the program you will:
Eat Six Small Meals per Day
Expect to Lose Up to 1 to 2 Pounds Every Week
Eat Fresh Fruits & Veggies
Eat Foods without Artificial Preservatives
Eat the Proper Blend of Vitamins and Nutrients
Eat Meals Rich in Protein, Fiber, and with Free from Trans Fat
With Nutrisystem, there will be a small amount of additional grocery shopping that you will have to do every month, as you will want to mix fresh fruits and vegetables into your diet as well.
I found that I was able to keep costs down by buying bagged salads, and that sort of thing.
They provide a grocery guide, though, so don't worry too much about that particular component of the diet.
Real Customer Testimonials from Men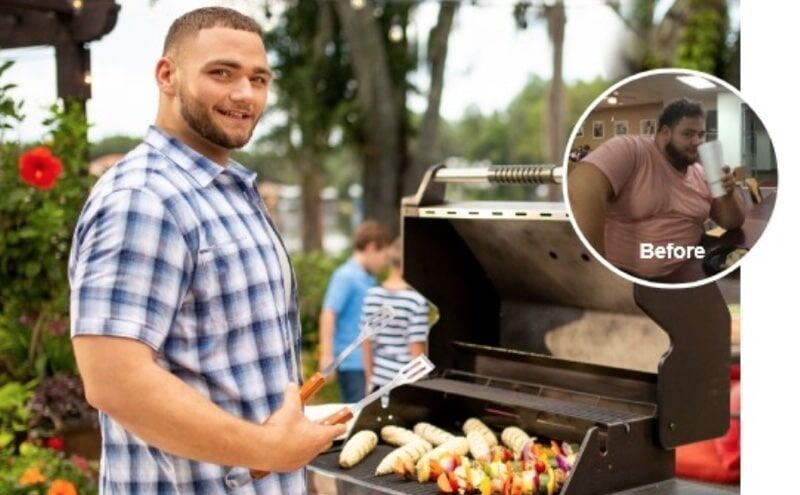 The results are in, and guys are loving the brand new Nutrisystem for men program – and I'm one of them.
Review after review of Nutrisystem seems to indicate how well this diet works, but there may be a few complaints out there as well. Either way, here's a review or two that I found to be very helpful:
It was so easy. Nutrisystem taught me what to eat, how frequently to eat, what the right sized portions were and how to keep the weight off. -Edouard D
The success I had in the first week inspired me to stick to the program. Some weeks I lost more than others, but that didn't deter me—and now I've surpassed my goal. More than anything, Nutrisystem taught me about portion control and sensible, enjoyable dining. When someone stops me to ask how I lost the weight, I always say, I can tell you in one word…Nutrisystem. -Allen L
I decided to go for it and try Nutrisystem. The weight just melted off: I lost 12 lbs.* with Fast 5 alone, and within four months, I lost 50 pounds* and learned so much about serving sizes along the way. Now my daughter hugs me while watching TV and tells me how proud she is of me. I'm proud of her, too—so we can both be proud of each other, thanks to Nutrisystem! -Michael C
I lost 60 LBS on Nutrisytem! I want to share my success story in having lost the weight I needed to lose. I went on the plan, followed it, added exercise to my daily routine and lost the weight. I have been off of the plan for two months and have kept the weight off. I believe I have learned to eat the right amount of portions as well as the right kinds of foods. I have found great support from the NutriSystem customer representatives and found encouragement as they cheered me on. Thank you for helping to jump start my weight loss. I feel like a new person. -James
Pros & Cons
For the most part we think the pros out weigh the cons when it comes to Nutrisytem for Men, but we'll take a look at both the good and bad, to help you decide if this is the right weight loss diet for you.
Let's start with the cons:
Cons
Financial Commitment: It will cost you about $300 to get started with Nutrisystem, as you're buying at least a month's worth of food in advance. That means you need to plan to stick with the diet for at least a month or two in order to get your money's worth. That said, it pencils out to cost about $9 per day, which is pretty affordable compared to your average grocery bill.
Meal Delivery Isn't for Everyone: Nutrisystem is a diet delivery program. Before you commit, it's smart to decide whether or not this is the type of program that fits your lifestyle, needs, and budget. If you're looking for a done-for-your type of diet, then this may be one you want to consider.
Have to Stick with it to Reach Goals: This isn't a fad diet, so you're going to have to commit to the program and stick with it if you want to reach your goals. You can lose a decent amount of weight when you first start, and then most men can expect to lose between 1 to 2 pounds per week moving forward. It's not a crash diet, so you'll have to earn your weight loss. Even so, it's easy to follow, and those who stay committed report pretty awesome weight loss results.
Pros
Designed Just for Men: Nutrisytem knows that the weight loss need of men and women can vary greatly, which is why they don't claim to have a one sized fits all diet. They have a plan made just for men, and as such, it's mean to meet the diet and nutritional needs of men.
Affordable: Nutrisystem is one of the most affordable diet delivery programs for men that we've reviewed, and is a great buy for those on a budget. Sure, there's some financial commitment up front, but good luck finding a program that provides you with 5 to 6 meals and snacks per day, for around $9.00.
Proven to Work: The Nutrisystem diet is backed by years of research, as well as thousands (if not more) client testimonials demonstrating that it works. If you're looking for a proven system for losing weight, that has science backing it up, this is it.
Easy to Follow: This diet takes all of the guesswork out of dieting. Just eat their food, stick with the program, and you should lose weight.
Free App: When you join, you get full access to their NuMi App. Here you'll find diet tips, grocery and restaurant guides, as well as meal and exercise tracking. Everything you need to stay on track.
Fast Weight Loss: They say guys can lose up to 18 pounds during their first month on Nutrisytem.
Nutrisystem for Men Review Summary
Nutrisystem is a safe and effective way to lose weight, and it works great for both women and men. They have a number of plans to pick from, including options for men with Type 2 diabetes and even vegetarians.
If the idea of a done-for-you diet that's easy to follow appeals to you, then Nutrisystem for Men is definitely worth considering.
---
Resources
PROOF OF PURCHASE: