(Last Updated On: June 1, 2020)
Wouldn't it be great if there were a line of fitness, nutritional, and weight loss products that were designed just for women?
Good news!
One company has created a full line of fitness and nutritional needs, and designed them around exactly what women need to power through their workouts to build lean, sculpted muscle, and feel great while doing it!
It's called IdealLean, and it comes from the makes for IdealFit.
If you've been searching for something more than your typical protein powders, that are usually designed with men in mind, then you've found the right place!
Below, we'll detail all of the amazing IdealLean products you can buy at the IdealFit website, but first, here are just a few of the reasons that they're one of our top-rated companies of the year:
BEST VARIETY FOR WOMEN: Whatever your goal may be: Fitness, fat burning, or improved health, IdealLean has you covered!
TASTES GREAT: Finally, protein shakes and fitness supplements that actually taste good!
MORE THAN JUST SUPPLEMENTS: The team at IdealFit is about much more than just providing you with supplements. They even offer fitness programs, clothing and gear, and free expert information and advice on their website.
PRICES YOU CAN AFFORD: Say goodbye to paying outrageous prices for your supplements – IdealLean is priced competitively to meet the needs of most budgets.
IdealLean Protein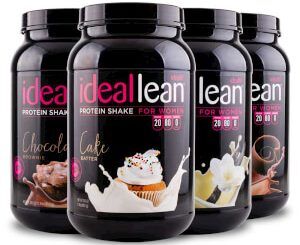 While there are a bunch of protein shakes for men out there, it can often be hard to find one that is designed just for women.
That all changed when IdealFit announced the release of their IdeaLean Protein.
Now there is a shake that is made just for you – the great thing about it is each shake only has about 80 calories but includes a whopping 20 grams of protein from whey isolate, to help power you through your workouts.